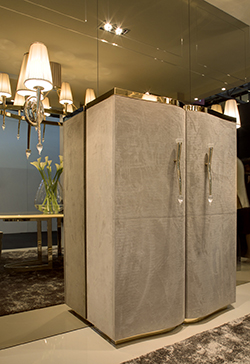 The origins of
DV homecollection
can be traced back to my family history.
Ours is a story of a love of beauty, a passion for creating beautiful things and our decision to dedicate our lives to that passion.The year was 1974, and two experienced woodworkers - my father Aldo and my uncle Giuseppe decided to begin a small scale production of tables and chairs together with their wives – my mother Lina and my aunt Lea who just so happened to be skilled upholsterers.
The result was a company that became so well-known for its high quality materials and expert craftsmanship that their products quickly became part of all of the collections of the most prestigious
Italian kitchen manufacturers
.
And it was on this solid foundation that I wished to create DVHomecollection, a brand all its own, whose signature would be a combination of two worlds: the Marches and our time-honored ideals of the workshop and skilled craftsmanship, and today's global market, where service, professionalism and quick turnaround are essential.
Fabrizio Della Costanza
DV homecollection looks to the past in order to find a way to build a better future, and uses the knowledge it gains to bring the priceless value of skilled
craftsmanship
to large scale production. We carefully follow every step of production, every piece is unique.
Never before has quality been more synonymous with excellence, as fashion and design continue to gain importance, and it is precisely this quality that makes
Italian design
inimitable and unsurpassed anywhere in the world.