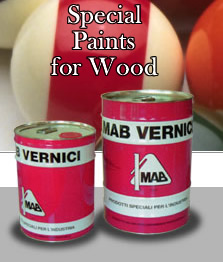 A company thas has been operating for over thirdy-five years in the sector
of paint products for wood witha a complete range of polyurethane, nitro sinthetic, polyester and coloured paints
.
Founded in Brianza (Milan) since 1970 it has transferred its head offices and sites to
Talacchio di Colbordolo
(Pesaro Province) and it recent years has extended its industrial premises that include a surface area of more than 5000 square metres.
The
administration and commercial division are completely computerized
; the data processing system manges purchases, sales, and storage of finished products on site and in periphal warehouses in real time. The sales network offers a timely service to its loyal customers.
Thanks to significant investments, the company currently boasts
innovative system that provide automated manufacturing, with precise, rapid and sophisticated manufacturing and auto-checking system for the entire production
, ensuring qualitative consistency and the total reliability of painted products. Storage of raw materials consists of 16 cisterns of 20 cubed metres each for.