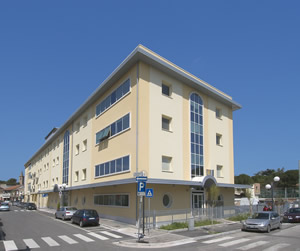 The
Private Clinic "Prof. E. Montanari"
founded in
1913
by surgeon whose name it bears is
the oldest private health institution in Emilia Romagna was still in business.
In these one hundred years, the nursing home was constantly expanded and renewed maintaining major hotel standards and professional.
The Clinic has
80 licensed beds
and 60 accredited beds, divided into two groups (medicine and surgery).
The
Surgery Unit
is a multidisciplinary structure that includes several of the surgical specialties (general surgery including surgery Plastic Surgery Specialist in Orthopaedics, Ophthalmology, Urology, Otolaryngology).
It has provided beds for surgical activity in inpatient, (lasting more than one day) and beds reserved for surgery with hospitalization of a day or "day surgery".
Also it performs activities of outpatient surgery for diseases amenable to treatment with this mode. All the activity is carried out in modern surgical operating room of the nursing home with the use of cutting-edge methods and instrumentations and subject to constant update.
They are mainly concentrating interventions planned elective surgery.
Patients undergoing major surgery, postoperative, are placed in rooms that allow a continuous and careful monitoring.
The
Medicine Unit
is structured as follows:
• bed inpatient, where patients are admitted to general medicine to address internal medicine.
• bed long-term care, where patients are hospitalized sent the deans public hospital.
Patient rooms, with 1 o 2 beds, all have a separate toilet and a request will be installed on the phone and / or TV, with availability of Sky channels, for a small amount.